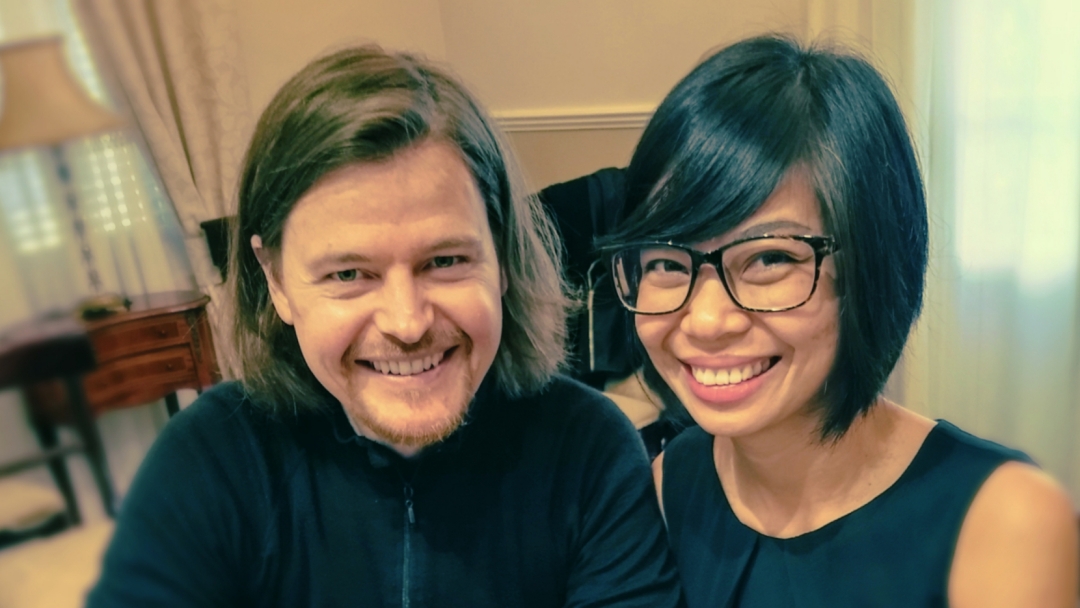 Hello! We're Fraser & Trinh
We are cold-showerers, breakfast-skippers, solar-water drinkers, meditators, nature lovers, Ho'oponopono believers, Ayahuasca experiencers, travellers, and the handmade soapmakers. Being 100% responsible for everything we create, not only in soapii but also in our lives, is our principle.
Starting with Fraser's life-long eczema suffering, we have been using handmade soaps since we were aware it is a choice. It was up to a point that we decided to make soaps for ourselves. And for other people.
That's when soapii started. And Fraser's skin problems disappeared.
Today, we have formed a small community – which we called "soapii tribe" – that supports us, believes in us, and most of all, believe that by choosing consciously every item we buy, we are moving toward a better future.
We, as a whole, can change our Planet Earth.
We are not ALONE. We are ALL ONE.
We hope someday day you will join us.
Lots of love,
Fraser & Trinh
Perfectly Imperfect
You will never find a "perfect" looking soap at soapii. The uniform-perfected look of mass production items made in factories are not available here.
Everything we made is handcrafted in small batches. Every batch is slightly different. Every piece of soap is unique and perfect in its own way.
Just like a cosy family home cook meal. Never exactly the same, and always delicious. Always with a touch of love.
Favour The Kind
Kind to the planet.
Kind to other species.
And kind to your body.
All our soaps are sustainable, vegan, and free from anything harmful to you.
Palm-free = No deforestation.
Plastic-free, fair labour, vegan = No beings suffer on land, air, or ocean.
Naked packaging or minimal biodegradable materials = No harmful waste.
Free from all chemicals of concern (even though many are allowed by the Cosmetics Industry, the FDA, and the EU Laws) = No toxic beauty.
Far From The Madding Crowd
Unlike the Microway Culture we are living in, everything developed organically at soapii.
Everything takes time.
All our Essential Oil soaps take at least 1 month to be packed.
Our Salt soap needs at least 6 months to be ready.
Our Olive Oil soap has to be cured for 12 months before handing it over to you.
Just like a tree in nature.
These soaps take all the time they need to be mature. To be their best selves: stay harder, last longer, and be much gentler on your skin.
Think Global, Act Local
We only use cold-pressed Extra Virgin Olive Oil, naturally grown & produced in a friend's garden in Portugal. This type of pure Olive Oil is believed to be one of the best oils for you and your skin health.
Salt used in our products is Artisan Sea Salt which was hand-harvested sustainably in Portugal.
We also use Blue Solar Water to make our soaps.
Blue Solar Water is water that is charged by the sun in a blue bottle. It is based on an ancient Hawaiian tradition Ho'oponopono that believes when the sun reflects on blue glass, it can purify and transform the water into healing water.
"The packaging is sustainable and looks very nice. The soaps smell of nature and leave a fine scent on the skin. A wonderful way to start the day. Swiss people love quality and this product meets the highest standards. It is a great pleasure for us to give away the pretty soap boxes to our customers and friends. Thank you for developing these wonderful soaps!"
"New favorite soap. The soaps have convinced me with their fantastic scents and my skin feels very soft since I started using them. In addition, they last surprisingly long. The design of the packaging is also beautiful. There is nothing better than handmade products, in which there seems to made with lots of love. I would recommend them at any time!"
"What the hell is in this?! I've been using this for nearly a month now, and I can honestly say I've never used a soap that is as gentle as this. I have eczema, and get very dry skin in the winter (particularly with all the extra hand washing these days), but this has been a revelation over the last few weeks. It doesn't feel greasy to use, washes off very easily (I HATE that residue feeling you get with some soaps), and leaves my hands feeling clean and fresh without leaving me with dry skin. And I haven't even mentioned the best part yet – the smell! I'm not a fan of perfumed soaps, but, without being overpowering, these have such wonderfully vibrant, natural scents that just add to the fresh, after-wash feeling. It's always a bit of a gamble when you pay extra for a 'premium' product that you haven't tried before, but when I have gone through these I will definitely be coming back for more. I don't know what the hell they put in it, but it is worth every penny."